Happy news! My picture book, ANNIE'S PLAID SHIRT, received 5 stars from San Francisco Book Review!
ANNIE'S PLAID SHIRT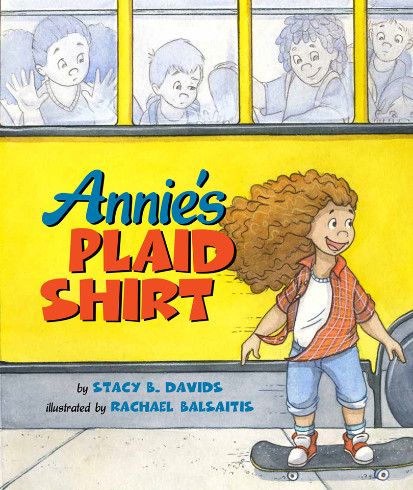 By Stacy B. Davids • Rachael Balsaitis, Illustrator
Upswing Press, $16.95, 32 pages, Format: Hard
5 of 5 Stars!
Annie loves wearing her plaid shirt. She wears it everywhere, all the time. Her mom insists she wear a dress to her uncle's wedding, because it's expected girls wear dresses...I'm not sure if it's the red plaid, the 'comfort' of the shirt, or a girl standing up for herself and figuring out a way to wear her favorite shirt–or all three, but I LOVED this story! It's a simple story, empowering, and Annie is endearing.
"She wished her mom understood her.  Annie felt weird in dresses.  She was happiest when she wore her plaid shirt."
While the story stands without the illustrations, artist Rachael Balsaitis...makes the story playful and shows Annie's independence.
Reviewed by Susan Roberts, San Francisco Book Review
*  *  *
ANNIE'S PLAID SHIRT is available at Amazon and Upswing Press. SIGNED and PERSONALIZED copies can be purchased at www.upswingpress.com. ISBN#: 978-0-692-51245-6
Stacy B. Davids, Ph.D. (@stacybdavids) is an author, psychologist, and indie publisher. Find out more.