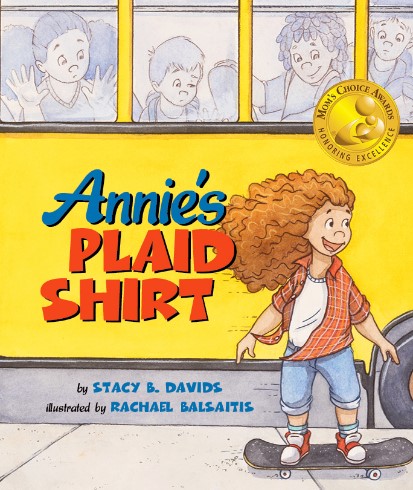 March 3, 2016
FOR IMMEDIATE RELEASE
CONTACT: Stacy B. Davids, Ph.D.; Email: info@upswingpress.com

The Mom's Choice Awards Names ANNIE'S PLAID SHIRT Among the Best in Family-Friendly Products
Summary: Upswing Press is honored to announce that the picture book, ANNIE'S PLAID SHIRT, has earned the prestigious GOLD Mom's Choice Award®. Having been rigorously evaluated by a panel of evaluators, ANNIE'S PLAID SHIRT is deemed to be among the best products for families.

Full Release:
The Mom's Choice Awards® has named ANNIE'S PLAID SHIRT as among the best in family-friendly books. The evaluation process uses a methodology in which books are scored on a number of elements including production quality, design, educational value, entertainment value, originality, appeal, and cost.

"I'm thrilled that my tomboy-themed, confidence-building picture book has earned the Mom's Choice Awards GOLD Seal of Approval," says psychologist Stacy B. Davids, Ph.D., who is the author and publisher of the book. "My hope is that ANNIE'S PLAID SHIRT helps children and even adults have the courage to always be themselves and to be understanding of individual differences. The text is simple and meaningful. The watercolor illustrations by Rachael Balsaitis are superb."

The Mom's Choice Awards (MCA) evaluators are bound by a strict code of ethics to ensure objectivity. "Our aim is to introduce families and educators to best-in-class products," explains Dawn Matheson, Executive Director of the Mom's Choice Awards. "We have a passion to help families grow emotionally, physically and spiritually. Parents and educators know that products bearing our seal of approval are high-quality and also a great value. The MCA evaluation program is designed to incorporate the expertise of industry professionals; but we also engage parents, children, educators, and caregivers because they are experts in knowing what is best for their families."
Upswing Press is an independent publisher of high quality, unique, and important books. ANNIE'S PLAID SHIRT is the company's first picture book, and it has received numerous 5-star reviews, including from the San Francisco Book Review.

The publisher's website at www.upswingpress.com contains additional information.

ANNIE'S PLAID SHIRT is available to purchase at Upswing Press' website and at Amazon.

About the Mom's Choice Awards®
The Mom's Choice Awards® (MCA) evaluates products and services created for children, families and educators. The program is globally recognized for establishing the benchmark of excellence in family-friendly media, products and services. The organization is based in the United States and has reviewed thousands of entries from more than 55 countries. Around the world, parents, educators, retailers and members of the media look for the MCA mother-and-child Honoring Excellence seal of approval when selecting quality products and services for children and families. Learn more about the Mom's Choice Awards by visiting their website.