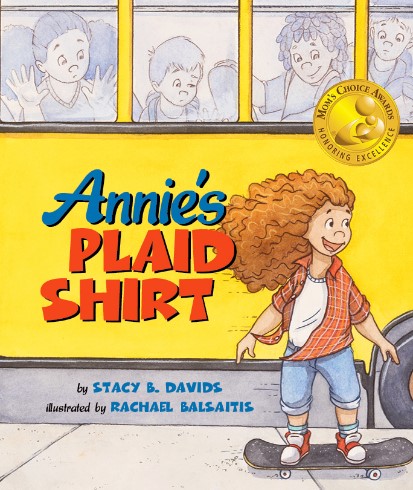 March 10, 2016
FOR IMMEDIATE RELEASE
CONTACT: Stacy B. Davids, Ph.D., Email: info@upswingpress.com
ANNIE'S PLAID SHIRT is a Foreword Reviews' 2015 INDIEFAB Book of the Year Awards Finalist!
North Miami Beach, FL—Today, Upswing Press is pleased to announce ANNIE'S PLAID SHIRT has been recognized as a finalist in 2 picture book categories of the 18th annual Foreword Reviews' INDIEFAB Book of the Year Awards.
Each year, Foreword Reviews shines a light on a select group of indie publishers, university presses, and self-published authors whose work stands out from the crowd. In the next three months, a panel of more than 100 volunteer librarians and booksellers will determine the winners in 63 categories based on their experience with readers and patrons.
"The 2015 INDIEFAB finalist selection process is as inspiring as it is rigorous," said Victoria Sutherland, publisher of Foreword Reviews. "The strength of this list of finalists is further proof that small, independent publishers are taking their rightful place as the new driving force of the entire publishing industry."
"The storyline in ANNIE'S PLAID SHIRT is near and dear to my heart," said psychologist Dr. Stacy B. Davids, who is also the author and publisher. "This fun, yet poignant, book is about being yourself and having confidence even in the face of adversity. The simple and meaningful text conveys real-life, relatable emotions. The watercolor illustrations by Rachael Balsaitis are fantastic. It's difficult for an independently published book to get recognition, and I'm so glad Foreword Reviews has chosen the book as an INDIEFAB finalist!"
Foreword Reviews will celebrate the winners during a program at the American Library Association Annual Conference in Orlando, Florida in June.
About us: Upswing Press an independent publisher of high quality, unique, and important books. ANNIE'S PLAID SHIRT is the company's first picture book, and it is a Mom's Choice Awards GOLD recipient. The book has also received numerous 5-star reviews, including from the San Francisco Book Review.
The publisher's website at www.upswingpress.com contains additional information.
ANNIE'S PLAID SHIRT is available to purchase at Upswing Press' website and at Amazon.
About Foreword: Foreword Magazine, Inc is a media company featuring a Folio: Award-winning quarterly print magazine, Foreword Reviews, and a website devoted to independently published books. In the magazine, they feature reviews of the best 170 new titles from independent publishers, university presses, and noteworthy self-published authors. Their website features daily updates: reviews along with in-depth coverage and analysis of independent publishing from a team of more than 100 reviewers, journalists, and bloggers. You can connect with them on Facebook, Twitter, and Pinterest.